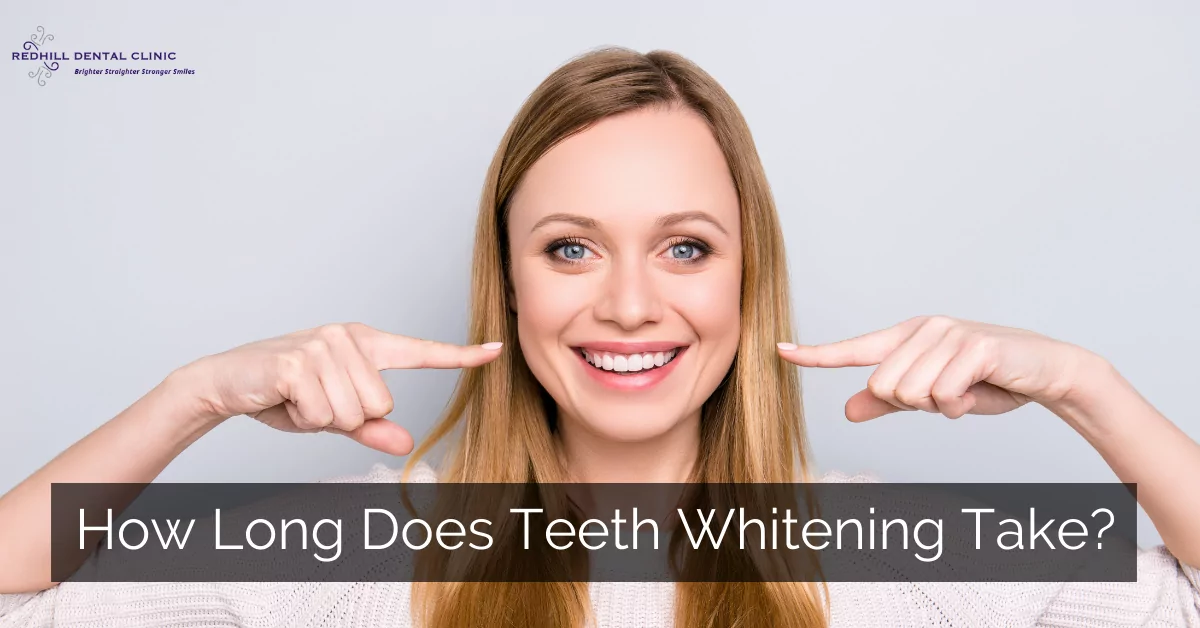 One of the questions many people ask is how long does teeth whitening take, throughout this article we will look at this plus many other questions related to the whitening process.
Teeth get discolored due to many reasons over an extended period of time.  Poor oral hygiene i.e., regular brushing and flossing, is one reason. But even regular brushing and flossing may not save your teeth from getting yellow over some time.
Other factors that cause discoloring of teeth frequently include tobacco consumption, liquor, certain types of foods with the ability to stain your teeth (like red wine, coffee and tea), and eating regularly, gastric acid, and genetic effects.  And if your teeth got pale once, they will likely get discolored again in the future, needing many teeth whitening. Apart from the expense, how much of your precious time will that take? Teeth whitening is of three types, and each takes different times and offers different results and, of course, different expenses.
Conventional Whitening Schemes
Historically people have been conscious about the brightness of their teeth. Many whitening techniques and whitening kits have been used over the ages, and some are still in use in various parts of the world. These include brushing with biological material like a peal of the walnut tree, miswaak (cutting of a green branch of some medicinal trees like neem), charcoal, or soda or special oils (oil pulling).
Currently, many kinds of toothpaste based on these are also available in the market. These are cheap and are used as part of the brushing routine. Hence, they demand no extra time consumption. The results, of course, are slow and demand regularity.
Chemical Whitening
Much faster results are obtained by using new chemical products. The active agent almost invariably is the hydrogen peroxide. Hydrogen peroxide is a bleaching gel used almost all whitening treatments and tends to bleach any tissue it comes in contact with. Thus, it can bleach your gums also.
The time required for teeth whitening and the resulting whitening effect depend on (1) the extent of staining to be removed (2) the strength of the chemical and (3) the time your teeth are exposed to it.  There are three usual methods of chemical whitening.
At-Home Whitening– Over the counter products are available, which contain gels having carbamide peroxide. This chemical release hydrogen peroxide, which works on the teeth surfaces. The gel is applied in trays, which are pulled over the teeth and worn for some time.
How much time should you wear these trays for? As long as possible for as many days as possible, typically a minimum of 2 hours per day but often overnight. The first time you should wear the trays for about an hour only. If no untoward effects are noticed, you can gradually increase the wearing time which can extend to overnight also. The process will typically go on for two to four weeks.
Dentist Supervised at Home Whitening– Off the shelf home whitening products use gel trays with a universal size that everyone must wear. Such trays will not fit properly. There will be chances of a spillover of the gel and discoloring of your gums. A rather weak chemical must be used. To overcome this, your dentist can have a custom tray made for your teeth and give you a gel, which is stronger and faster. Still, you are advised to wear these trays along as possible even overnight. The advantage is that your gums will be safer, and you will wear them for fewer days.
In–Office Whitening– In-office whitening is the ultimate in teeth whitening. The dentist takes expert care to protect gums by applying a protective coating before applying the whitening chemical. The dentist can use a much stronger chemical safely and the time taken for whitening is much shorter, typically 30 minutes.
Usually, a few visits only are necessary each of which may extend over one to two hours.  In some cases, the chemical action is expedited by laser treatment. That is often referred to as laser whitening. The "zoom" whitening is also offered by some offices, which completes the whitening process in two to three hours in a single day.
what are the risks of tooth whitening
The whitening process, especially the in-office procedure, is a safe procedure. However, some people may feel sensitivity for a few days. You may also feel mild irritation of your gums, which will wear off soon.